San Francisco is dismissing cannabis convictions backdated to 1975
Bethan Rose Jenkins, Cannabis News Writer/Editorial
February 2, 2018
Convicted criminals who have been charged with a cannabis-related felony dating back to 1975 will have their offenses dismissed, thanks to a recent announcement by San Francisco District Attorney George Gascón.
On Wednesday, Gascón announced a change in laws for cannabis convictions in San Francisco. Residents of "The Golden City" will no longer be required to take any action in order to have their misdemeanor crimes overthrown.
Approximately 3,038 misdemeanor cannabis crimes committed prior to state legalization will be erased under Proposition 64 and an additional 4,940 felonies will be reviewed for potential reduction to misdemeanor, based on information released by the Drug Policy Alliance.
"A criminal conviction can be a barrier to employment, housing and other benefits, so instead of waiting for the community to take action, we're taking action for the community," Gascón declared in a statement.
Before this news was revealed at a conference, a mere 23 petitions had been filed in San Francisco over the last year. This small figure is a reflection of the expenses associated with gaining legal assistance for cannabis record eradication.
Court petitions are a time-consuming task that can leave the petitioner majorly out of pocket, whereas Prop. 64 will enable prosecutors to remove convictions on a larger scale.
What is Proposition 64?
Back in November 2016, state voters ruled in favor of Proposition 64. Also known as the "Adult Use of Marijuana Act" or the "California Marijuana Legalization Initiative," Prop. 64 is a proposition to legalize cannabis in California for adults aged 21 and above.
"We believe it is the right thing to do. We believe it is the just thing to do," Gascón said regarding dismissing the cannabis convictions.
Prop. 64 is considered a new benchmark of cannabis legalization in San Francisco, with the intention of recompensing those who may have felt troubled by the justice system in times gone by. Under this ruling, Californians can possess a maximum of one ounce of cannabis. Additionally, Prop. 64 gives previously convicted individuals a chance to reduce their penalty or terminate it altogether.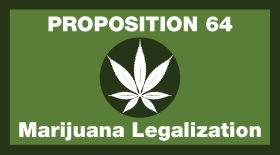 How will people benefit from reduced/dismissed cannabis convictions in San Francisco?
Soon after the District Attorney's office broadcasted its objective to reduce misdemeanor drug convictions, people in San Fransisco who committed a cannabis crime from 1975 onwards were instantly relieved of the formerly tedious process, which involved paperwork and costly attorney fees. The way in which prosecutors will now handle cannabis convictions in San Francisco is somewhat inspirational for other cities in the U.S., not to mention governments statewide.
A lack of news coverage has prevented individuals from understanding Prop. 64, but since Gascón's announcement, people of color and low-income communities have been given a chance to step outside of what California Lieutenant Governor Gavin Newsom describes as a "costly, broken and racially discriminatory system of marijuana criminalization."
Aside from legalizing recreational cannabis in San Francisco, the California measure will benefit individuals who wish to banish their case entirely.