Cannabis banking might not be here yet but cannabis credit cards are
Cardholders may bag discounts on pot products inside Columbia Care's dispensaries
Bethan Rose Jenkins, Cannabis News Writer/Editorial
July 8, 2019
Last month, Columbia Care went down in history as the first ever company to introduce a cannabis credit card created especially for the industry. 
The company, which is one of the biggest medical cannabis dispensary operators nationwide, has announced that it will now start accepting "Columbia National Credit" (CNC) cards inside its stores. Columbia Care's locations include Chicago, New York, Phoenix-metro and Washington, D.C. Prior to being unleashed upon the world, Columbia Care's credit card for cannabis transactions was introduced on a trial basis. This experiment kicked off mid-2018 in the New York State area with promising results.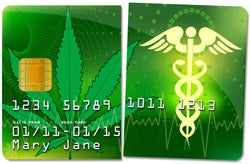 Customers who purchased Columbia Care products from one of their medical cannabis dispensaries spent more money when they used a CNC card. In fact, in-store purchases amongst cardholders were, on average, 18 percent higher than it was amongst non-cardholders.
The trial also indicated that customers preferred using the company's automatic fulfillment services when they paid with a CNC card. Customers were also more likely to arrange for home delivery if they used a cannabis credit card; their shopping baskets were 40 percent bigger than customers who did not opt for pot delivery. 
What's more, after the CNC trial, this year's month-over-month growth for home delivery services in New York State swelled by 25 percent, indicating the profit potential associated with introducing alternative banking solutions for the legal weed industry.
CNC card is available in a handful of legal cannabis markets
The initial success of Columbia Care's cannabis credit card led to the deployment of card transactions inside its Delaware and Pennsylvania-based stores. Cannabis credit card transactions are also expected to be introduced inside its Arizona and Illinois stores.
Although the CNC card is currently only available for use inside the dispensary operator's facilities, the company has not dismissed the possibility of it being utilized inside facilities outside of the Columbia Care brand.
There are a number of benefits associated with using a CNC card, as opposed to paying with cash. Aside from being informed about Columbia Care's new product selection before anyone else, cardholders may also bag discounts on pot products. Card transactions also eliminate the risk of being targeted by thieves who prey on cash-only businesses.
Cannabis banking issues will be resolved when the government ends prohibition
The Treasury Department's Financial Crimes Enforcement Network (FinCEN) released a report last year that shed light on the number of banking institutions and credit unions "actively" managing financial accounts for companies in the legal weed industry. The figure at the end of March 2019 rested at 411. This is 20 percent more than it was in 2017 when President Donald Trump first assumed his role in-office. 
Now, with former U.S. Attorney General and pot prohibitionist politician Jeff Sessions having been replaced with Attorney General William Barr, cannabis reform has a much better chance of transpiring throughout the U.S. in the near future. Back in April, Barr told Congress that he thinks the federal government's prohibitionist approach to weed is "intolerable." 
When Sessions was AG, he rescinded Obama-era Justice Department guidance safeguarding statewide cannabis laws. This made it even more difficult for cannabis companies to conduct legal banking. On the plus side, federal cannabis legalization could be just around the corner. 
If and when the government legalizes weed at the federal level, restrictions on cannabis banking will be lifted. Until then, companies like Columbia Care are seeking out shortcuts to simplify cannabis banking solutions, such as with cannabis credit cards.