Georgia's Senate Runoff candidates could influence cannabis reform in the U.S.
Who will win Georgia's Senate races? The answer to this question could drastically change the landscape of legal weed in the United States, where a Senate run-off election is expected to take place on January 5, 2021. 
Back on November 3, no candidate in either of the state's Senate races bagged a majority vote, thus leading to a runoff for both seats. With the run-off election looming, cannabis advocates and prohibitionists are wondering where each candidate stands on the prospect of legalization.
Let's find out what efforts could be made to legalize cannabis in the U.S.; based on who bags a seat in the Senate of the 117th Congress:
Sen. Kelly Loeffler
(
R-GA) 
In early 2020, Sen. Kelly Loeffler was appointed by the state's governor to serve in Congress. She says that although she is aware of "some of the arguments in favor of ending the federal prohibition of [cannabis] and am aware that there are potential medical applications," she still feels "concerned about the negative effects that legalizing [cannabis] would have on communities, families, and our nation's youth." 
A report by NORML expanded on her views of cannabis legalization in the U.S., with the senator telling reporters that efforts "must be taken seriously and with the common goal in mind to prevent Americans from becoming dependent on drugs." In particular, Loeffler has aired her concerns regarding the potentially negative implications that may arise if adolescents and pregnant women use the plant; she cited an advisory from the U.S. Surgeon General.
In the event that Loeffler bags a Senate seat, the outlook for cannabis reform remains bleak. Not only did she express her strong criticism against legalization in an American Family Association survey but also, she slammed House Democrats for vowing to safeguard state-legal cannabis businesses from federal intervention as part of the coronavirus relief bill.
Raphael Warnock 
American pastor and politician Raphael Gamaliel Warnock got his name noticed in politics when he emerged as the leader of a campaign to broaden Medicaid under the Affordable Care Act. He has not been shy about his support for cannabis reform in the U.S., with the reverend often touching upon the failed war on drugs.
"[Cannabis] is seen as an illegal substance. It's a terrible irony and we feel it, that right now in America there are some folks who are becoming billionaires for selling the same stuff that's got our children locked up all across America," Warnock was quoted as saying in one sermon. "Where is the justice?" he questioned, adding that, "It's not enough to decriminalize [cannabis]. Somebody's gotta open up the jails and let our children go." 
Warnock has also slammed the public health system for failing to adopt a public health approach to substance misuse issues prior to the opioid epidemic's infiltration into white communities. 
"For 35 years we've had a war on drugs. Back then we were dealing with heroin, crack. Now we're dealing with meth and opioids. It's interesting to me that now we have a public health emergency. I'm glad we've become so enlightened now that the bodies are suburban, rural and white," he said another sermon.
"In 1980, there were about 300,000 or so Americans in prison. Today there are 2.3 million Americans in prison. Most of them are there for non-violent, drug-related offenses in America's so-called war on drugs. We warehouse in America 25 percent of the world's prisoners. Nobody else comes close. Not even China with a billion people. We've got them beat. We warehouse 25 percent of the world's prisoners in the so-called war on drugs."
Sen. David Perdue (R-GA)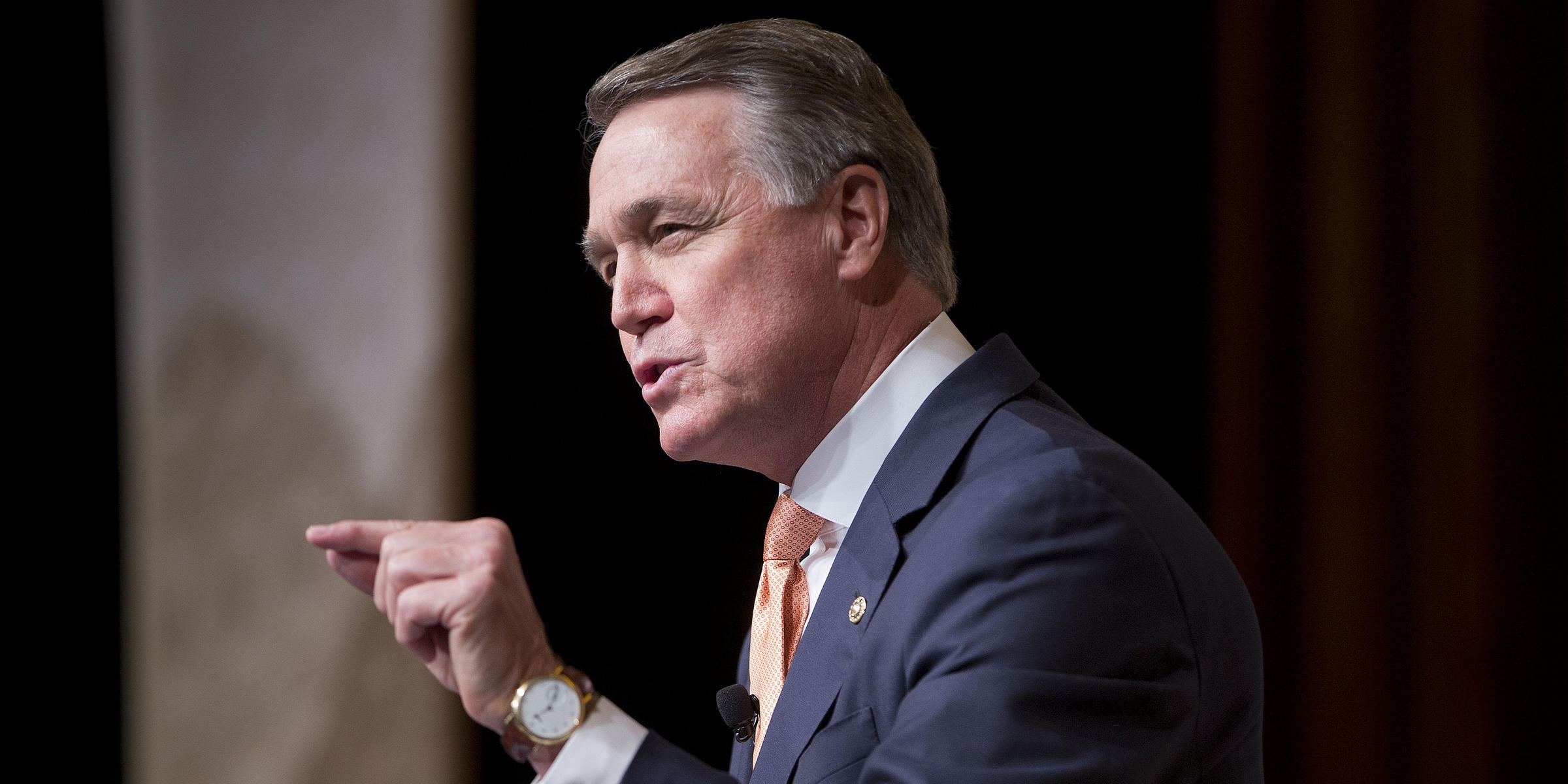 It's unlikely that sweeping cannabis reform will occur in the U.S. if Sen. David Perdue is selected to take a seat in the Senate. He has opened up about his support for medical cannabis, but draws the line at the plant's medicinal use; based on a statement released back in 2014. 
"I'm not a doctor, but the only use of [cannabis] that I would support today would be the medical use of it. I've talked to other physicians that think it's a valuable tool to use. I'm basing this on medical thought that that is a tool to use against some treatments for cancer and so forth, and if that can be used medicinally, I would be OK with that," said the Senator, who noted that he would be willing to prevent federal regulators from poking their noses into the state's medical cannabis program.
"As a senator, I'm telling you that I'm going to support the law of the land in the state of Georgia, that's first of all, second of all, that the medicinal use of it is something that I would be receptive to," he continued. So far, no cannabis reform legislation in the Senate has received support from Perdue.
Democrat Jon Ossoff
Perdue's opponent, Jon Ossoff, has a very different opinion on cannabis reform in the U.S. Should he be elected in the Senate, he vows to put cannabis legalization at the top of his agenda. The American politician and investigative journalist was also a Democratic nominee in the 2017 special election for Georgia's 6th congressional district. 
"Some get rich in the legal cannabis industry while others sit in prison for nonviolent cannabis offenses. Prohibition destroys lives, wastes resources, and enriches cartels," wrote the Democratic nominee July. According to his website campaign, Ossoff will push to "legalize cannabis" and "end incarceration for nonviolent drug offenses."
During a recent interview with CNBC, he proclaimed that "Federal legalization is long overdue. I won't just push for decriminalization, I'll push for nationwide legalization of cannabis." He went on to say that the substance's prohibition is "irrational" and is taking its toll on the human population, claiming that the plant is less detrimental to health than alcohol.
Currently, based on data released by ad-tracking firm AdImpact, ad spending has exceeded $468 million in both runoff races. More than $100 million had been raised by Democratic competitors Jon Ossoff and Raphael Warnock between October 15 and December 16th, according to Federal Election Commission figures. Conversely, Republican challengers Sen. David Perdue and Sen. Kelly Loeffler separately raised more than $60 million dollars within the same timeframe.