CEO of MedMen describes Oregon and Colorado's cannabis markets as "horrible"
Many of MedMen's California stores are said to rake in more than $20 million in annual revenue
Bethan Rose Jenkins, Cannabis News Writer/Editorial
July 3, 2018
Filed under Social cannabis
Hang on for a minute...we're trying to find some more stories you might like.
Adam Bierman is the CEO and co-founder of MedMen Enterprises – a cannabis company with operations spanning across California, Florida, Nevada and New York.
Nicknamed the "Apple Stores of weed," MedMen runs 18 licensed cannabis facilities in the retail, manufacturing and cultivation industries.
While most people would think that Colorado, Oregon, and Washington are desirable cannabis markets to be involved in, Bierman believes quite the opposite.
Despite being weed-friendly locations, Bierman told CNBC's "Mad Money" host Jim Cramer that he thinks all three cannabis markets are "horrible markets to be in."
"[It's] good for business that those are tiny markets that, in the grand scheme of things, maybe matter not that much," said Bierman.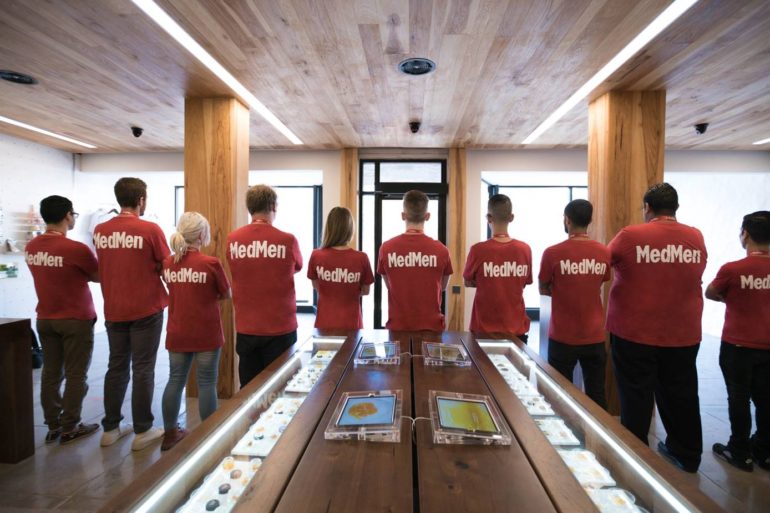 The CEO explained to Cramer how supply and licensing has been constrained in the aforementioned markets.
"What's really important to understand is every market since those markets came online [has] been supply constrained, so limited licenses and, most importantly, especially for the MedMen's case, the most arduous retail zoning restrictions known to man," Bierman said.
Although MedMen is licensed to legally function in the U.S., the cannabis company is publicly traded in Canada. You can find it on the OTCQB Venture Market and the Canadian Securities Exchange.
Bierman contributed to Canada's cannabis voting
As the CEO of MedMen, it's not surprising that Bierman is a vocal cannabis advocate. Back in June, the Canadian Senate contributed to Canada becoming the first and only country in the Group of Seven (G-7) to completely legalize cannabis by voting to legalize the plant nationwide.
Bierman has his sights set on markets far beyond Canada. In fact, he plans to dominate the global cannabis industry some day.
"From the beginning, we've been the 'Why not?' people," Bierman told Cramer.
"Why can't you build a billion-dollar business in this industry? Why not? Why can't you take the biggest U.S. weed company and make it public and available for people to own all over the world? Now, there's a lot of roadblocks in that kind of an attitude and we can't list here in the U.S., so we have to list in Canada and, unfortunately, that's the only place to go. Now, fortunately, it is a place to go and they've been great partners."

Bierman will delve into new ventures when revenue hits $1 billion
It's clear that things are going well for MedMen, what with Bierman dropping the billion-dollar bomb during his interview with CNBC. Bierman says that he will "look at what's next" once his cannabis company tops $1 billion in revenue.
He also touched upon the stoner stereotype and how his company aims to abolish it completely. A fine example of his efforts to accomplish this is "Forget Stoner" – a marketing campaign that utilizes visual ads to expose the diversity among cannabis consumers, e.g, elderly individuals, business professionals, etc.
"The concept of a stoner or a stoner image is something that's yesteryear," the CEO said.
"This is about Chardonnay moms. This is about working dads. This is about marijuana substituting and replacing, you know, other things that people are already utilizing that, in some instances, are detrimental to their health," he added.
Bierman also spoke about America's opioid epidemic and discussed cannabis' role in solving the health crisis that has plagued the U.S. since the late 1990s.
You can watch the full interview below.

Bethan Rose Jenkins is a cannabis journalist and advocate with 8+ years experience in the online writing world. Shoot her an email at bethanjenkinsx@hotmail.com.