Cannabis dating app is encouraging singles to ignite a spark with fellow pot lovers
You can download High There! on the Apple App Store and on Google Play
Bethan Rose Jenkins, Cannabis News Writer/Editorial
October 30, 2018
Filed under Culture
Hang on for a minute...we're trying to find some more stories you might like.
Could cannabis be the secret ingredient to finding true love?
The creators of what has been dubbed the "Tinder for tokers" seem to think so. High There! is a Florida-based app designed to push potheads together romantically.
Founder and CEO of the cannabis dating app Darren Roberts is hoping to get the app noticed by single Canadians amidst the rise of Canada's legal weed market, which launched on October 17.
Users of cannabis dating app share a comment interest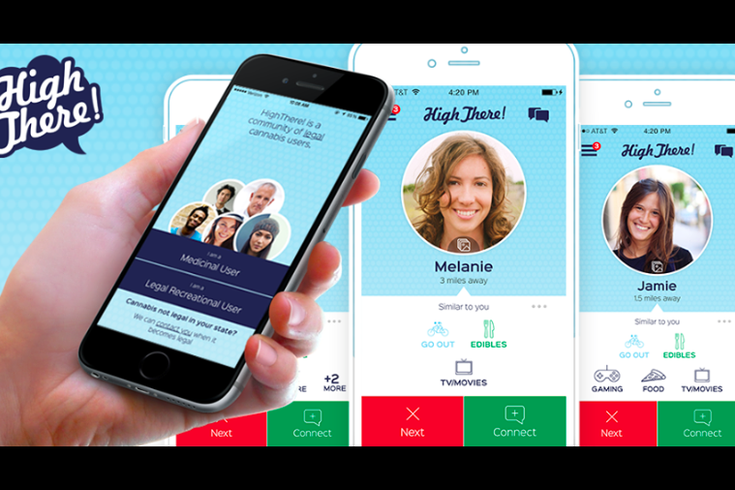 Since most dating sites tend to put a limit on how eligible a bachelor is by asking them to state whether they are a smoker or a non-smoker, High There! cuts out the funny stuff.
Anyone who signs up to use the cannabis dating app is going to be a self-confessed lover of the green stuff. Cannabis users don't need to be searching for any real "spark" when they use the service since the app also acts as a platform for interaction between consumers who are looking for a social smoking partner.
Illegal behavior is not encouraged; Roberts affirms that illicit deals between buyers and dealers are strictly prohibited. He says that a "comfort" level is instantly established among stoner singles because all High There! users share a common interest with one another. Information about each individual's consumption habits is featured on their profile page.
Couple praise pot for strengthening their relationship and business
A couple of cannabis-consuming lovebirds from Charlottetown are a prime example of how pot can strengthen a partnership.
Sean Berrigan, 29 and his girlfriend Vanessa-Lyn Mercier, 28, praise the plant for helping their love and business to bloom.

Aside from being wedding photographers, the couple manage an Instagram account called @Highloveclub. Featured on their feed is an edgy selection of snapshots of Berrigan and Mercier sparking up joints on Prince Edward Island's beaches.
Mercier was not a consumer when she met Berrigan four years ago, however. She did not approve of her boyfriend's medicinal cannabis use when their romance first started. It wasn't until she began experiencing health issues a year into their relationship that she took a life-changing toke of a joint. Her chronic pain disappeared and she quickly got a medical cannabis prescription from her doctor. Cannabis also helped Mercier explore her creative side with photography.

"We both kind of bonded over our love of photography and cannabis. It kind of helped pave the way to where we are now," said Berrigan. "If cannabis wasn't there … I don't know if we'd even be together."
Since cannabis has roots in ancient tantric sex rituals as an aphrodisiac, the plant could potentially stimulate male and female arousal. When shared, an emotional connection may also be established.