NHL's Toronto Maple Leafs initiates legal battle against Snoop Dogg's cannabis brand trademark
Bethan Rose Jenkins, Cannabis News Writer/Editorial
February 13, 2019
Snoop Dogg has found himself in the midst of a legal battle with Toronto Maple Leafs, after the major NHL brand claimed that the rapper's LEAFS BY SNOOP brand trademark bears a strong similarity to the ice hockey team's trademark.
The dispute comes three years after Snoop Dogg officially launched his cannabis brand in Colorado back in November of 2015. In the paperwork, Snoop's real name is referenced: Calvin Broadus. 
Back in July of 2018, the 47-year-old filed for a trademark as a means of shielding the intellectual property and branding rights of his cannabis company. Leafs by Snoop specializes in edibles, activated cannabis oils, extracts, waxes, drops and much more.
"The Toronto Maple Leafs, one of ice hockey's best-known franchises, are opposing Snoop Dogg's attempts to trademark branding for his cannabis company," read a post on Twitter from the Sports Editor of The Independent, Ed Maylon.
Recently, the Maple Leafs celebrated 100 years of playing for the NHL, from which they won the Stanley Cup 13 times. The ice hockey team's fan base extends across the United States and Canada.

The "unusual spelling of Leafs could lead to confusion"
"Over 90 years ago, the Maple Leafs adopted as one of their key brand names the trademark LEAFS. They have used their LEAFS mark in United States commerce since 1927. The LEAFS mark reflects a highly unusual and distinctive spelling since the plural of the English language word "leaf" is usually presented as "leaves," not "leafs."
Those were the words of the Maple Leafs, which filed against Snoop's trademark in December of last year. It wasn't just the spelling that Toronto's famous ice hockey franchise was upset about. Objections were also made against the choice of logos and branding used to market Snoop's new cannabis business.

"The similarity between the marks is exacerbated by the design elements of the LEAFS BY SNOOP Mark," read the details of the legal battle between Snoop Dogg and Toronto Maple Leafs.
"As shown below, Applicant's design mark uses a white font enclosed within a wide-shaped leaf with three large segments at the top of the mark, a design echoing and highly similar to the MAPLE LEAFS' design marks."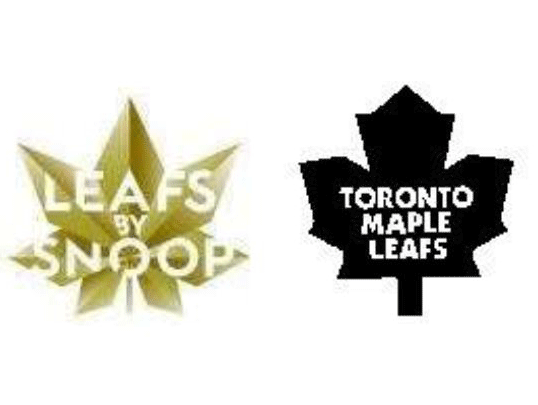 Lawyers are evaluating the Maple Leafs-Snoop case
The legal clash should be an interesting one to follow. After all, Maple Leafs maintains its status as one of the NHL's 'Original Six' teams. Then there's Snoop Dogg, who is a household name in the rap industry.
With that being said, the NHL's legal battle against the Leafs by Snoop brand could be as intense as one of the Maple Leafs' hockey games. Lawyers are currently evaluating the case, based on the latest reports.