Cannabis cryptocurrency and bitcoin craze gaining global momentum
Hang on for a minute...we're trying to find some more stories you might like.
Cannabis legalization is having a direct effect on the trading environment. With this rise in legalization comes increased demand for cannabis cryptocurrency. According to CEO of TD Ameritrade, Tim Hockey, cryptocurrency trading will soon be pushed to remarkable levels.
"If you look at the two sectors in the quarter we just announced last year, they would have made up about two percent of trade. Yet for this past quarter, for the full quarter, bitcoin and cannabis made up about seven or eight percent of trades," said Hockey during an interview with CNBC.
Alternative virtual currencies are also gaining traction as a result of cannabis legalization. This news is encouraging millennials to get involved in the trading game, which a Goldman Sachs investor has affirmed to be "better than diamonds."
Why invest in cannabis bitcoin and cryptocurrency?
Right now, cannabis cryptocurrency and bitcoin is where the money is, thanks to the simplicity of concealing these stocks, not to mention the affordability of storing such commodities. As more U.S. states and countries legalize recreational and medicinal use of the herb, the reefer movement is spreading further and the money-making potential for budding investors/entrepreneurs is increasing.
Cannabis cryptocurrency and bitcoin have even been likened to precious metal and gold investments, with Coindesk publishing the Bitcoin price as $10,826.3 on January 24. Different cryptocurrencies, such as Ripple (priced at $1.37) and ethereum (priced at $1,001.84) are also attracting a lot of interest among investors.
Aside from the impressive trading prices, the trading levels are equally as impressive. In the final quarter of 2017, 726,000 cannabis-related stocks were being traded. This figure has since crept up to 975,000, according to Hockey of TD Ameritrade.
The top cannabis cryptocurrencies of 2018
Although it remains illegal at the federal level, digital cannabis currencies are making it possible for cannabis industry professionals to facilitate secure transactions. Some top-trading cannabis cryptocurrencies at the current time include: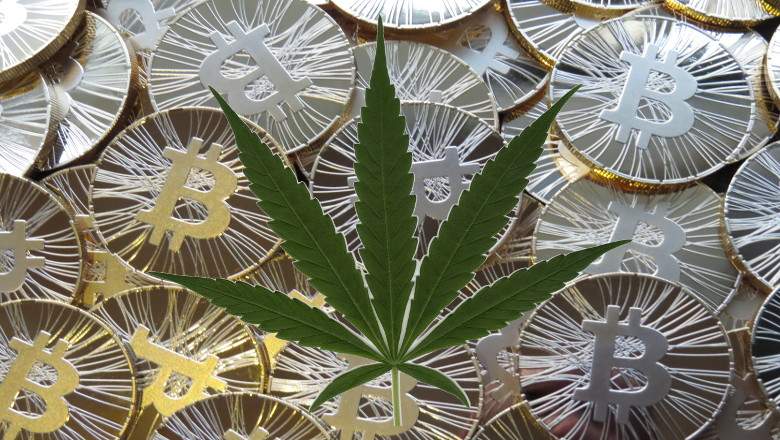 Investors are gaining interest in the Canadian cannabis market
Among the many companies that are actively trading cannabis shares, Canopy Corp. Growth and Aurora Cannabis are, at this moment, two of the most widely-traded shares. Both companies are Canadian, proving how the Canadian cannabis market really is exploding as of late.
In fact, investors in Sweden have taken a big interest in Canadian cannabis shares, with Nordnet savings adviser, Joakim Bornold, revealing how Swedish investors are leaning towards bitcoin, as opposed to other commodities. This is pretty impressive, considering Sweden has not yet legalized cannabis and probably won't do so until most places on the map have given legislation the green light.